Our Commitment To Safety​
We remain committed to doing everything we can to help keep you safe this season, so you can focus on having a great time on the mountain. Learn more about the steps we're taking for the 2021-22 season below.
What You Need To Know
We are fortunate that the core of the ski and ride experience takes place outdoors in vast mountain settings. However, as we welcome guests from around the world to the indoor experience at our resorts, we feel it's important to do our part to combat the spread of COVID-19. This season, our COVID-19 safety protocols are focused on indoor spaces.
All of our policies are subject to change based on the evolving nature of the pandemic as well as federal, state, and local public health guidelines. For information and visitor resources on local guidelines, visit https://www.skinh.com/covid-19-consumer.
Please stay home if you are sick or experiencing symptoms of COVID-19. To learn more about our safety protocols, please read on.
Mountain Access

We will not have a mountain reservation system this season and will load lifts and gondolas at normal capacity, optimizing
guest movement around our resorts.

Face Coverings

Face coverings will be required in indoor settings, including in our gondolas, restaurants, lodging properties, restrooms,
retail and rental locations, and on buses. Face coverings will not be required outdoors or on chairlifts, but are required in gondolas.
Your face covering must remain on for the entire gondola ride, so please refrain from eating and drinking in the gondola.

Dining Reservations

Like last season, it is recommended that you book a reservation to warm-up and eat at many of our on-mountain restaurants
using our reservation service. Walk-ins are welcome and will be served on a first-come, first served basis, subject to availability.
See additional details below in the FAQs

Dining Vaccinations

Guests ages 12 and over will be required to show proof of COVID-19 vaccinations to dine at our
indoor, on-mountain quick-service (cafeteria-style) restaurants. This requirement includes those guests
12 and over in our ski and ride school programs that include lunch. More information on the verification process
and the list of quick-service restaurants requiring proof of vaccination can be found on the Resort Dining Page
during the season. Consistent with many other large-scale indoor activities and venues, we believe the vaccine
requirement is important for the protection of our guests and our employees, given the number of people using these facilities
and the fact that guests will not be wearing face coverings while eating and drinking. This is currently the only part of
our experience that will require proof of vaccination, unless required by local public health.

Cashless Transactions

For guest and employee safety, all transactions will be cashless unless otherwise required by local law. This includes at our
hotels, restaurants, ski and ride school, and all other points of sale. For the best experience, book and pay online in advance.

Cleaning and Disinfecting Enhancements

Hand sanitizing stations are provided throughout the resort. We are frequently using EPA-approved products that kill the COVID-19
virus on all of our high-touch surfaces and restrooms, and we are applying enhanced cleaning and disinfecting practices across
our resort, including in our gondola cabins.

Employee Vaccinations

We will be requiring all of our employees to have COVID-19 vaccinations for their safety and protection as well as the safety and
protection of our guests and communities, and in compliance with the recent rules announced under the U.S. Department of
Labor's Occupational Safety and Health Administration.

Daily Employee Health Screenings

All employees are required to undergo daily health screenings, wear face coverings indoors, regularly wash their hands,
and stay home if sick or feeling sick.
Previous tab
Previous tab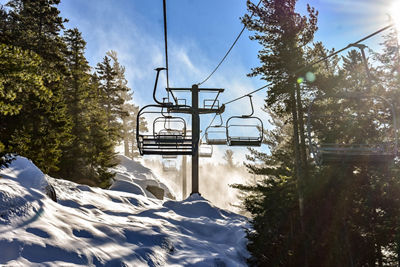 Chairlifts
Face coverings will not be required in outdoor spaces such as lift lines or chairlifts.
Face coverings are required on gondolas regardless of vaccination status.
Your face covering must remain on for the entire gondola ride, so please refrain from eating and drinking in the gondola.
We will load lifts and gondolas at normal capacity, optimizing guest movement around our resorts.
Currently there are no public health orders in place mandating physical distancing indoors or on lifts or gondolas. We will continue to monitor those orders as the pandemic evolves and will follow all federal and local public health orders.

Whether you're looking for a beginner lesson or to unlock new terrain, our world-class instructors have completed COVID-19 protocol training and are committed to providing you with a safe and fun experience.
Group and private lessons are available for all skill levels, for guests aged 3 and above. Full and half-day lessons (and season-long program) availability varies based on dates and times.
Guests 12 and older enrolled in a

full-day

lesson will need to provide proof of vaccination in order to dine with the group. Adult lesson participants (15+) may choose to not provide proof of vaccination and dine without the group. Lunch for full-day child group lessons is included.
Face coverings will only be required indoors and are not required to be worn during lessons while outside.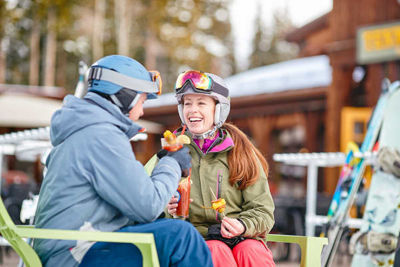 Mountain Dining
DINING AND VACCINATIONS: Guests ages 12 and over will be required to show proof of COVID-19 vaccination to dine at our indoor, cafeteria-style restaurants. Guests can show a vaccination card, a photo of a vaccination card on their phone, or an official vaccination verification mobile app. Guests 18 and over will also need to show a government issued photo ID (or an Epic Pass). Vaccinations are not required at our full-service or outdoor restaurants. For more information, please visit the Dining page.
DINING RESERVATIONS: Reservations will NOT be required at our dining locations this season. Tables will be first come, first served.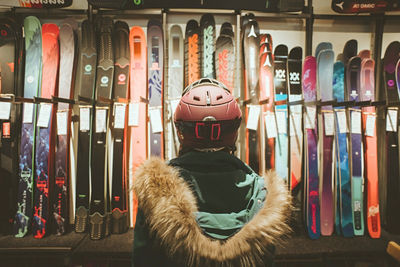 Equipment Rentals
All owned and operated in-resort ski and snowboard rental locations are open this season.
All rentals come with poles included and the option to add-on boots and/or a helmet purchase.
Delivery service will be available at the following resorts: Vail, Beaver Creek, Breckenridge, Keystone, Crested Butte, Park City, Northstar, Heavenly and Whistler Blackcomb. All delivery services are subject to availability.
Face coverings will be required at all times in our rental locations. Guests will not be required to show proof of vaccination in rental locations.
Employees will take additional precautions during portions of the rental process that require close interactions with guests.
Frequently Asked Questions (FAQs)
COVID-19
Exposure to COVID-19 is an inherent risk in any public location where people are present. The resort has implemented protocols to prioritize guest health and safety, but we cannot guarantee you will not be exposed to COVID-19 during your visit. The risk of being exposed or becoming sick due to COVID-19 cannot be eliminated. Every skier and rider shares the responsibility for a safe and healthy skiing experience. It is your responsibility to read and comply with all instructions and signage posted at the resort and on the resort's website. Stay home if you are sick or experiencing symptoms of COVID-19. Wear a face covering in designated areas and maintain at least 6 feet physical distancing from other guests when possible. Wash and sanitize your hands frequently.