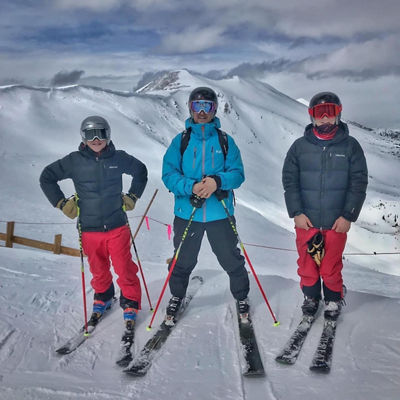 By Pamela Hoye

Taking a family ski trip is worth the effort, I promise, but an effort that can be made far easier with a little pre-planning and upfront organization. As the mother of two almost adult boys, I have experienced the un-organized and the organized.
If you're not prepared, getting the family on the mountain can feel clunky. Photos of unpredictable kids, frantic glove searches and sibling-on-sibling fights in the back seat of the SUV don't always make the resort advertising.

But something magical happens when you are seated on your first lift of the day with your child's undivided attention, screen free.

We started our family ski trips with the boys at ages three and four. Teaching your kids to ski is a gift that will last them a lifetime. I recently reaped the benefits of seeing the impact of this gift. My now 17-year-old son wrote a college prep essay about the impact skiing has on his life. His reflection was a moving showcase of the moments and chair lift chats he has enjoyed over the years with friends and family. The years of effort put into our ski trips paid off.

Taken from experience, below are three essential steps to prep for the season.

ONE: GET YOUR GEAR READY

» Inventory Everything: Are socks and gloves still a pair? Try on boots. Are skis still the right length. Test zippers. I hosted mini "get ready for winter" prep days in my living room. It's pretty cute to see your kids in pajama bottoms and ski boots.

» Borrow, Trade and Swap: Ski gear is expensive and kids grow quickly. Use all the tools in your tool kit – ask your friends what their kids have grown out of, leverage social media to find sales sites, get creative, and pay the gear forward next season. Fall is filled with a wide range of ski swap options. A Ski Swap is where in-the-know enthusiasts unload the gear sitting unused in a closet – at incredible prices.

» Plan to Rent: Most mountain resorts offer full service rental options. Renting gives you access to the support of an expert who can help you with sizing, and you don't need to store in the off season. Hunter Mountain's online rental is a good example of resorts making it easy and accessible to book in advance. Bonus: Epic Pass Holders receive 20% off rentals, so don't forget to flash your pass.

TWO: BOOK AND BUY THE BASICS

» Buy Early, Save Big: Booking now is the cheapest way to secure winter fun. This year Vail Resorts has actually lowered their Epic Pass prices by 20 percent. If you plan to stay within driving distances this season, Northeast Value Pass offers incredible value for skiers and riders to want to stay close to home at all 8 resorts in the Northeast including Stowe, Okemo, Mt. Snow and Hunter. Plus kids under age 4 Ski Free at Vail owned properties and kids ages 5-6 ski for $39 on the Northeast Value Tot Pass.

» Book Lodging Early, Guarantee Availability: Lodging that fits a family books quickly. Securing early will allow you time to be more selective with your family needs. A condo is my personal preference, access to a kitchen and a bedroom door that can be closed are my pre-reqs. Fresh air is exhausting, and little ones will fall asleep earlier than usual. It's your vacation too, so if don't want to find yourself sipping wine at the end of a bed in a dark hotel room while your kids sleep, book now. Seasons Condos at Mount Snow is a good one to check out, located slopeside (great to sneak in for lunch and less gear lugging) and also has an indoor pool and hot tub.

THREE: BOOK ACTIVITIES AND LESSONS

» Leave the Lessons to the Experts: Let go of the fantasy that teaching your kids on your own is going to be a magical experience. (Also don't teach your partner, but that is for a different article). Remember, a child's true colors shine through to mom and dad. A tight boot or a cold finger will amplify when you are the teacher. Leave the ski basics to the experts, like the options at Stowe Mountain. Plus, it gives time for a mini day date with your partner while the kids are busy learning.

» Non-Ski Activities: Finding non-ski activities lets the good times continue to roll off the mountain and also gives little toes a break from ski boots. Family-friendly ski resorts offer a fun variety of non-ski experiences, such as tubing at Mount Snow, ice skating at Liberty Mountain Resort, souvenir shopping at Stowe Village, snow shoeing, hot tubbing and heated pools.

» Kid-Friendly Restaurants: I am a believer of teaching the full ski experience, including après. Identifying family-friendly hot spots will give you the end of day après experience, after all, reminiscing about your day over a steaming cup of hot chocolate is a must-do.

Enjoy every turn with your family, time flies.

See you on the slopes!

Pam Hoye is happy to offer advice about her experience packing up a family for a ski trip, but her real expertise is après. As a self-proclaimed 'chardonnay skier' (ie: take a couple green/blue runs and then head in for a glass of chardonnay) she has fully embraced the Laidback Ski Lifestyle. She is passionate about getting more newbies on skis, especially adults. As someone who learned how to ski later in life, she believes with all her heart that there is spot on the mountain for everyone.