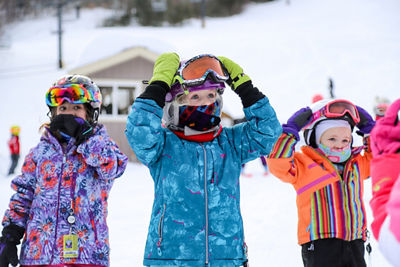 Start with a warm base layer of long underwear, wool or synthetic wicking material is best.
One pair of calf height socks made of wool or synthetic material
Sweater or fleece and/or turtleneck
If your child tends to get cold, a pair of thick tights or lightweight sweatpants may be helpful
A warm jacket and ski pants water proof or water resistant is best
Helmets are recommended and available to rent as a separate item. If you choose not to have your child wear a helmet, a warm hat will be helpful
Goggles and a neck-up will keep faces warm. Please no scarves as they are a safety hazard on the lifts
Warm waterproof mittens or gloves
Thin cotton stretch gloves are not appropriate even in warmer weather as they get wet and cold very fast, also avoid knit gloves or mittens
Don't forget sunscreen and lip balm to protect your child's skin from the sun reflecting off the snow.
Our younger Buddy Bears sometimes find an extra set of clothes helpful
Please label your child's clothing, as well as any equipment that you own.

If you have forgotten anything, you can purchase them at Attitash Sports located in the Attitash Main Base Lodge.