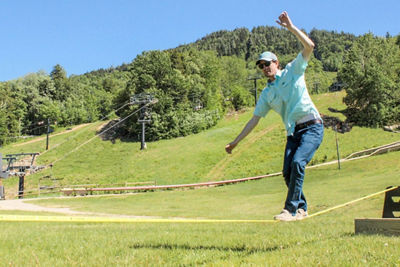 Test Your Balance
Slacklining refers to the act of walking or balancing along a suspended length of flat webbing that is tensioned between two anchors. Slacklining is similar to tightrope walking but a little easier and low to the ground!
Test your balance on our slacklines, the latest dynamic sport and freestyle activity. Once you're feeling balanced, try some of the basic tricks like walking, walking backwards, turns, drop knee, and bounce walking.
Summer Hours: June 15 - September 2 | open daily | 10 a.m. - 6 p.m.
Fall Hours: September 7 - October 14 | open weekends + Columbus Day | 10 a.m. - 4 p.m.